The Birch is formed from binding together twigs or rods to form an implement for Corporal Punishment.
Originally a prime implement of punishment in English schools, it was prevalent from the Middle Ages till Victorian times when it was replaced by the Cane.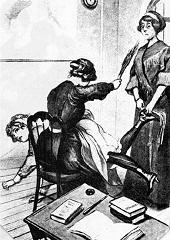 The Birch remained an implement for judicial punishment in the UK till 1948, being retained in the Isle of Man till 1976.
There are two distinct types of Birch, a brush birch and the Manx birch. The 'Birch' does not necessarily need to be constructed from the birch Tree, other types of tree can be used. The concept being similar to the switch in the United States.
A brush birch consists of a collection of twigs with the severity being determined by the size and weight of the birch. This was type typically used in schools.
The Manx birch severity is more determined by the length and number of rods used. Manx refers to the Isle of Man, this type of birch being used for judicial punishment on the island. It has been likened to receiving 3 or 4 cane strokes all at once depending upon the number of wands used.
============================================

Edited by jstorey36
7

1